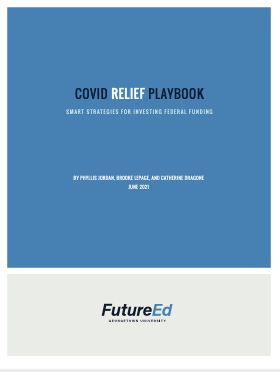 Disrupted for more than a year by the coronavirus pandemic, U.S. public education now has a substantial opportunity to rebound. An unprecedented infusion of federal money—totaling nearly $190 billion in three rounds of funding—will support the efforts of school districts and charter schools to reopen classrooms safely, help students accelerate academically, and, we hope, gravitate to new policies and practices that improve educational opportunities and outcomes for all students. The latest federal Covid-relief package, the American Rescue Plan, requires states and school districts to spend a portion of their funding on "evidence-based interventions" to address lost learning opportunities.
In this playbook, FutureEd highlights 18 evidence-based practices that have delivered improvements in instructional quality, school climate, student attendance, or student achievement—and sometimes all four. We explain the rationale for each strategy, summarize and rate the strength of the supporting research, and provide insights into implementation.
And we've included one-pagers below for each intervention that are printable and easy to share. A complete bibliography of research studies is included in the full report.
We are grateful to the Carnegie Corporation of New York for funding the project.
One-Pagers for Each Intervention
Photo courtesy of Allison Shelley/The Verbatim Agency for American Education: Images of Teachers and Students in Action.