In May, after the Republican-controlled Congress renewed the private school voucher program for Washington, D.C., President Donald Trump heralded the program's "tremendous successes." Vice President Mike Pence went further, calling it "a case study in school choice success."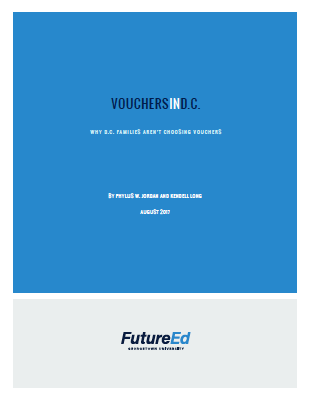 But FutureEd's in-depth look at the nation's only federally funded voucher program suggests that many D.C. families are rejecting the choices the program provides.
While applications for the D.C. Opportunity Scholarship Program were up in the 2016-2017 school year, the number of students who actually used vouchers fell to 1,154, down from 1,638 four years earlier. A third of the students already awarded vouchers didn't use them. And more than half of the new students who won vouchers in the 2016 lottery didn't end up going to private school. With the new legislation and an infusion of cash, advocates expect to see numbers rise in the new school year.
Why did D.C. voucher use decline when voucher programs elsewhere were expanding rapidly? The answer reflects both the flaws in the program's design and the wide array of educational choices the city offers. And it provides insights into how to design school choice systems that best serve students and taxpayers effectively.
Read our commentary in The Washington Post: The weakness in D.C.'s voucher program