Back in March, when the coronavirus crisis first shuttered schools and universities, Congress dedicated some $30 billion to help the education sector recover. About $3 billion of that went directly to governors to use at they saw fit.
With Congress still debating whether to allot more money for education institutions, the governors discretionary fund represents an important resource at a time when both public and private education institutions are facing dramatic budget cuts. While $3 billion isn't a tremendous sum in a nation with nearly 100,000 public schools and 5,300 colleges and universities, its spending does reflect the policy priorities of state leaders.
To learn where funding is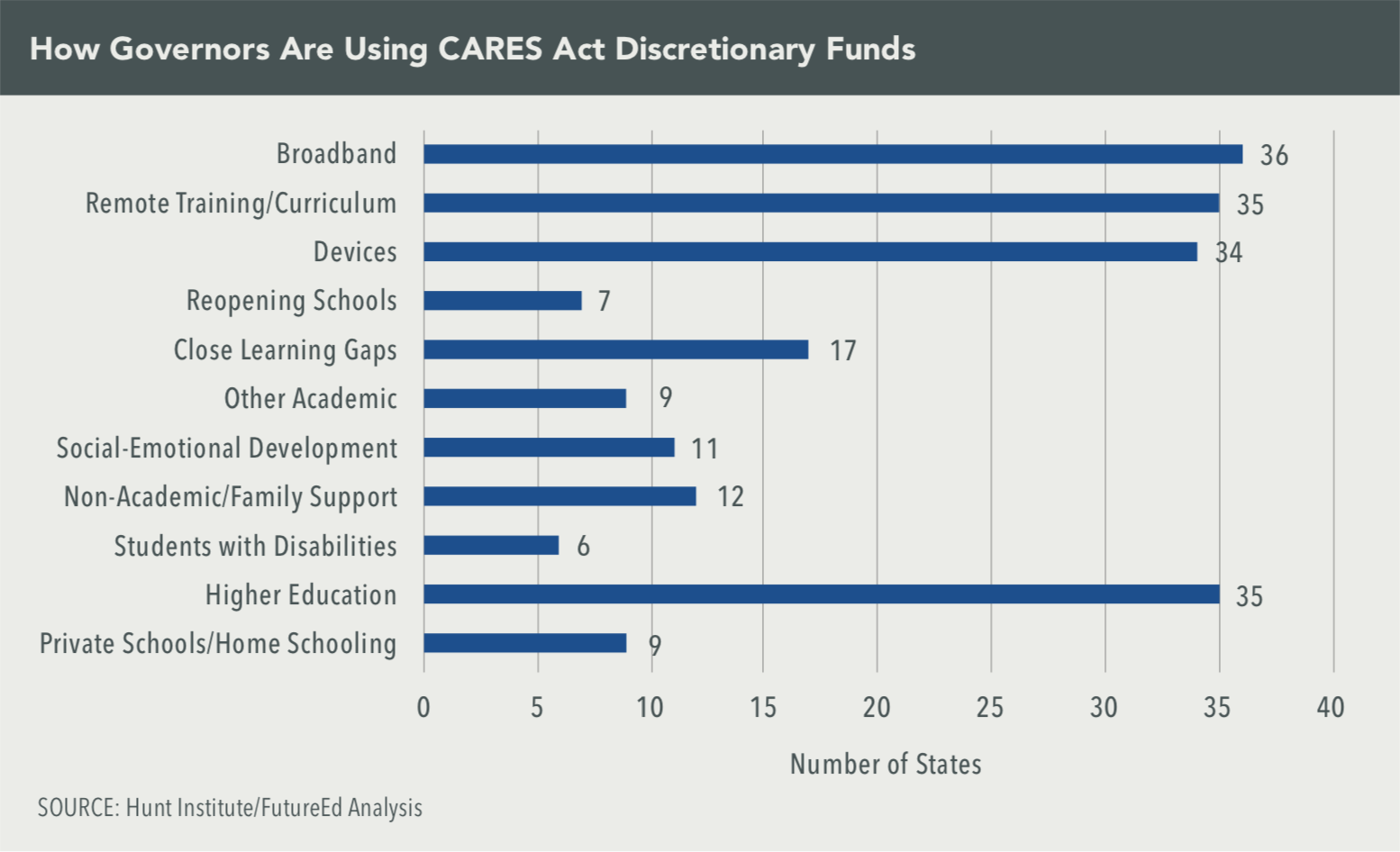 flowing under the Governor Emergency Education Relief Fund, or GEER, FutureEd and The Hunt Institute reviewed governors' spending discretionary plans in the 48 states that have released detailed plans to date.
Most governors split their GEER funding among K-12 schools and higher education, with several investing in early childhood learning. New Jersey Governor Phil Murphy (D) stands alone in devoting his entire $68.8 million allocation to higher education. New York Governor Andrew Cuomo (D), by contrast, is sending all his $164 million directly to K-12 districts and allowing them to decide how to spend it.
Despite the national push to reopen schools, far more governors are using their discretionary resources to enhance remote learning in K-12 schools and the higher education sector.
Thirty-six set aside part of their discretionary funding for expanding broadband to students without internet access. The strategies include providing wi-fi through school buses in Alabama and local libraries in Montana. Maine is paying for 14,500 internet contracts.
Thirty-four earmarked funds for laptop computers and other devices. Tennessee Governor Bill Lee (R), for instance, devoted $50 million of his $63 million in GEER funds for a grant program that allows districts to pay for laptops, tables, and wi-fi devices needed in distance learning. Arkansas is buying 20,000 devices.
Thirty-five governors also designated money for curriculum and teacher training to deliver remote learning. Idaho is developing an online learning program with public television, while Massachusetts is expanding online access to Advanced Placement (AP) and dual-enrollment coursework. Oklahoma is expanding its virtual AP offerings and has established grants to families for tutoring and online curriculum. Virginia is purchasing an online learning platform.
Only seven governors have targeted the safe reopening of schools in their GEER plans. They include New Mexico Democrat Michelle Lujan Grisham, who set money aside for sanitizing, cleaning and buying protective gear and North Dakota Republican Doug Burgum, who used funding to "support the health and safety procedures" needed for reopening.
At least 17 state executives earmarked discretionary funding specifically to address learning gaps exacerbated by the coronavirus crisis, including summer schooling and tutoring. California Governor Gavin Newsom (D) is putting his entire $355 million allotment toward reducing learning loss, though he interprets it broadly. Several other states—including Illinois, New Mexico, Pennsylvania and Virginia—are devoting funds to early childhood education, a significant casualty of the pandemic.
[Read More: What Congressional Covid Funding Means for K-12 Schools]
With many advocates suggesting that students with special needs have been poorly served during the pandemic, six governors have targeted GEER monies for students with disabilities. Texas is investing in a virtual dyslexia intervention, while Arizona and Maryland are giving added funding to specialized schools for the deaf and blind.
Eleven governors are spending their discretionary dollars on students' health and social-emotional well-being. North Carolina will spend $40 million to hire school nurses, counselors, social workers, and psychologists. Connecticut will devote spending to developing a statewide social-emotional learning framework. Illinois's State Board of Education will create a Student Care Department.
Governors in 12 states are helping students and their families outside of school. Florida, for example, is building out telehealth services and Kentucky, Louisiana, and Virginia are among those expanding family food programs.
In some cases, governors are combining their discretionary dollars with other CARES Act priorities for greater impact. Congress provided $13.2 billion for K-12 schools and $14 billion for higher education. While most of that money flows directly to school districts or students at higher ed institutions, a fraction is reserved for the state education agency.
In Alabama, Republican Governor Kay Ivey is devoting $100 million in federal money to expanding broadband access and provide devices, with a chunk of that coming from her $48.8 million GEER account. In Connecticut, Democratic Governor Ned Lamont is combining his discretionary dollars with other CARES Act funding to launch the $43.5 million Everybody Learns Initiative for digital learning.
The trends we found were largely bipartisan, with one exception: support for private schooling. Four governors, all of them Republican, are providing funding for private school vouchers or scholarships. South Carolina Republican Henry McMaster is putting two-thirds of his GEER dollars toward tuition vouchers for independent or parochial schools. Republican governors in Florida, New Hampshire, and Oklahoma have also earmarked for scholarships or vouchers. Oklahoma is also providing grants directly to families to pay for tutoring and online curriculum, a nod to homeschoolers in the state.
Alaska, Indiana, Maryland, Massachusetts, and Minnesota are allowing to private schools to compete for GEER-funded grants. Among them, only Minnesota is led by a Democrat.
Phyllis Jordan is editorial director of FutureEd. Javaid Siddiqi is president and CEO of The Hunt Institute.