When governors delivered their State of the State addresses this winter — often via video camera to a remote audience of legislators — the coronavirus pandemic colored every conversation about education.
Beyond the obvious topics of school reopening and broadband access, governors recast school choice expansion as a way to relieve parents teaching their children at home. They framed student mental health support as intervention for pandemic-related trauma and pay increases for teachers as a "thank you" for their hard work and flexibility over the past year. Job training initiatives were pitched against the backdrop of higher unemployment rates.
"I wish I could tell you that no child is falling behind in this disruptive year. But I can't," said New Jersey Democratic Gov. Phil Murphy in his Jan. 12 speech. "That is why our focus must turn to ensuring our students have the academic and social-emotional support needed as they rebound from the stresses of the pandemic."
FutureEd analyzed speeches from 48 governors since January, paying particular attention to proposals for spending and policy changes, then partnered with The 74 to turn the analysis into a series of interactive maps. We found that surprisingly few state leaders spoke directly about how they would allocate the influx of COVID relief dollars coming from Congress. And few addressed what declines in state revenue could mean for schools. New York Democratic Gov. Andrew Cuomo was an exception, stressing the need for additional federal aid to address the state's $15 billion budget deficit. He raised a string of painful, hypothetical cuts, including, "If we cut education funding for our children 20 percent, we would save $5.2 billion."
Virginia Democratic Gov. Ralph Northam acknowledged the enrollment loss many school districts have experienced during the pandemic and pledged to put $500 million toward keeping schools whole. Nevada will have to phase in its planned funding equity formula given current budget constraints, Democratic Gov. Steve Sisolak said.
---
INTERACTIVE MAPS — Click here to scan The 74's six maps spotlighting 2021 education priorities: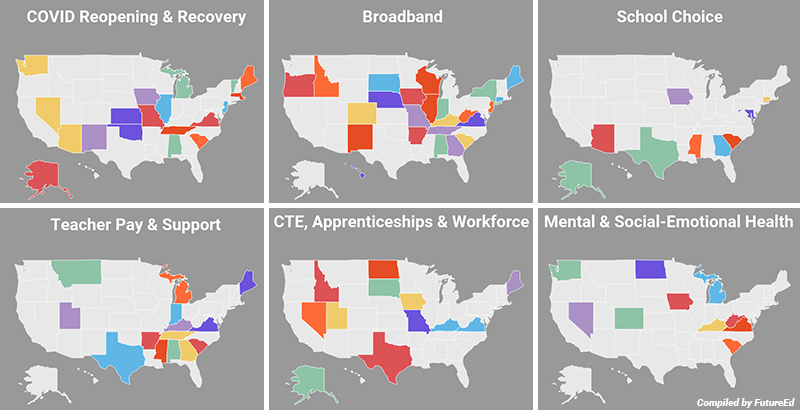 ---
Many governors explicitly mentioned school reopening, but the tone varied from state to state, largely along partisan lines. In Arizona, for instance, Republican Gov. Doug Ducey declared: "We will not be funding empty seats or allowing schools to remain in a perpetual state of closure." And in South Carolina, Republican Gov. Henry McMaster asked the General Assembly to send him a bill requiring "unwilling school districts to reopen their classrooms."
In contrast, Washington Democratic Gov. Jay Inslee struck a more positive chord, promising, "We're going to get students back into the classroom, and make sure it's in safe and healthy settings." Vermont Republican Gov. Phil Scott said he has asked state education and health officials to work with school districts, teachers and pediatricians on a plan that would reopen schools "hopefully sometime in April."
Governors in five states — Arizona, California, Oklahoma, Kansas and Virginia — specifically brought up vaccinating teachers as key to reopening schools safely. Ten governors called for new initiatives to address learning loss, including extending the school days, offering summer school and providing tutoring.
Despite the push for reopening schools, most of the governors in both parties gave a nod — and often pledged substantial resources — toward expanding broadband and internet access, especially in rural areas. Georgia Republican Gov. Brian Kemp proposed spending $20 million for the current fiscal year and $10 million a year in future years for rural broadband grants, which facilitate partnerships with the private sector. Hawaii Democratic Gov. David Ige pledged to create a Broadband and Digital Equity Office to oversee efforts to expand rural access and to identify how new congressional relief funds could be spent on the effort.
Ten governors promised to expand school choice options, many of them framing the issue in terms of the challenges parents are facing during the pandemic. Alaska Republican Gov. Mike Dunleavy noted that the number of students homeschooling has risen from 11 to 22 percent in the past year. "While we continue to get our students back into the classroom where they belong, there remains thousands of parents-turned-teachers who desperately need our support now," he told legislators. Likewise, Kemp pledged to put $10 million in federal aid to reimburse Georgia parents and guardians for educational expenses. Mississippi Republican Gov. Tate Reeves said he wants to ensure that "parents have the choice to save their child from a district that lets them down." Other governors, including Republicans Kim Reynolds of Iowa and Larry Hogan of Maryland, would put money toward private school scholarships.
Student mental health drew proposals from 10 state leaders and took on increased urgency this year, with students suffering from the disruption and isolation the pandemic has brought. Northam proposed spending $26 million to expand the number of school counselors. Reynolds would put $15 million in the current year toward mental health needs, including expanding telehealth services. McMaster pledged to give every student access to a school counselor, a nurse and a police officer at school. North Dakota Republican Gov. Doug Burgum would invest in expanding treatment for substance abuse disorders. Colorado Democratic Gov. Jared Polis framed his investment in school counselors in terms of ending the school-to-prison pipeline.
Nearly all governors applauded teachers for adapting to virtual learning and other changes in the past year. But while 12 governors proposed pay boosts and other support, they would accomplish this in different ways. Ten would offer raises or bonuses, while two would address pension concerns and one, Democratic Gov. Andy Beshear of Kentucky, would provide loan forgiveness. Democratic Gov. Gretchen Whitmer of Michigan plans to award $500 grants to each teacher and support staff member to offset classroom expenses.
When it came to curriculum, career and technical education dominated the conversation for many governors. Missouri Republican Gov. Mike Parson pledged to deliver that training in high schools with an expansion of the Career Ready 101 program that can prepare students for WorkKeys Assessment, an ACT credential he called "an important stepping stone for students who are not immediately college-bound but have the knowledge and skills to fill high-demand jobs."
Sisolak stressed the role of community colleges, calling for transitioning Nevada's to a new independent authority with a workforce focus. Burgum pledged $45 million to expand and develop CTE centers across North Dakota.
A few state leaders proposed other curriculum initiatives: Murphy pledged to incorporate climate change into lessons, South Dakota Republican Gov. Kristi Noem called for more focus on U.S. and state history and Connecticut Democrat Ned Lamont plans to broaden the teaching of history to make sure Black, Hispanic, white and Native American students all have "a better appreciation of their histories and civilizations." While Beshear proposed funding textbooks and electronic instruction resources, McMaster brought up replacing "outdated Common Core textbooks."
Ultimately, state legislators must transform the rhetoric of governors' annual State of the State addresses into reality. The next few months will reveal how, and to what extent, these lawmakers choose to restore and reshape education in the wake of the pandemic.
FutureEd Research Associate Catherine Dragone contributed research support for this report.
View our state of the state spreadsheet
Read our analysis of federal Covid relief spending
View our 2020 state of the state analysis
Read our 2020 commentary for The 74