Twelve state and local evaluations of a federal grant program aimed at turning around struggling public schools found statistically significant gains for students, despite a much-touted, 2017 federally funded report that pronounced the School Improvement Grants (SIG) program a failure.
In a new report from FutureEd, researchers Alan Ginsburg and Marshall S. Smith document that research across the country shows the value of the multi-billion initiative in improving schools. And they explore why the study commissioned by the Education Department's Institute of Education Sciences (IES) turned up no significant gains when comparing students in SIG schools to those in similar schools that didn't receive SIG support.
The SIG program, which began in 2010 with a $3.5 billion investment, eventually spent $7 billion in federal money. The authors of the IES-funded study found no significant improvement for students among the 190 SIG schools they studied in 22 states.
Education Secretary Betsy DeVos is quick to mention this study when she says there is no point putting more money into struggling public schools. "But the work done on the state and local levels suggests that the autopsy on the grant program is flawed and so is its conclusion," Ginsburg said.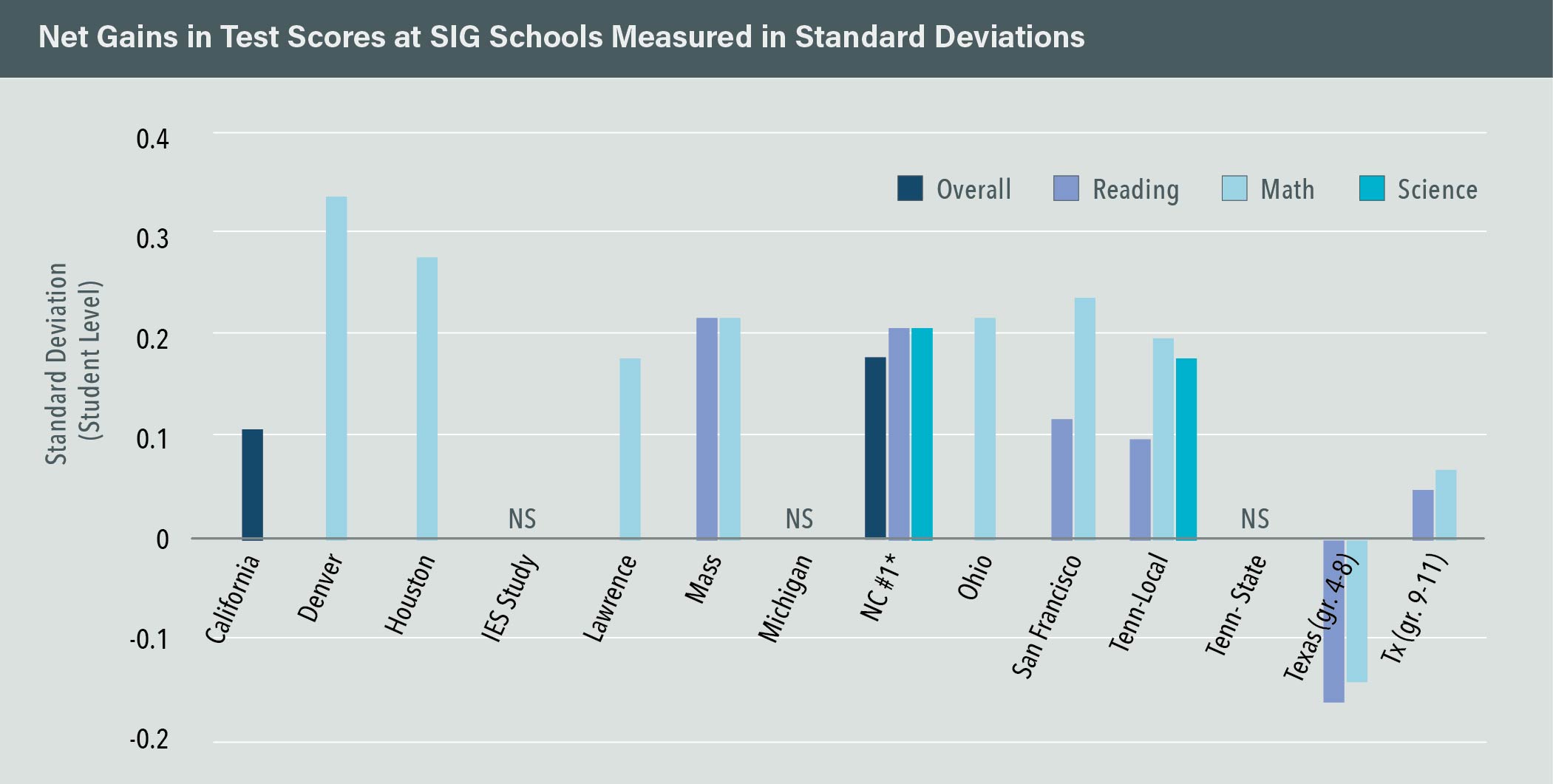 The FutureEd report goes beyond the national study to include a comprehensive review of 17 state and local reports that looked collectively at 449 SIG schools, as well as similar schools for comparison. In 12 of the 17 studies, schools made significant strides in student test scores, proficiency or high school graduation rates when compared to other schools.
A closer look at the federally funded study suggests its sample of schools was too small to draw dependable conclusions. It would require unrealistically large gains to detect "statistically significant" improvement in student achievement at SIG schools when compared to others, Smith and Ginsburg confirmed—a conclusion supported by four leading education researchers who reviewed the FutureEd findings.
The report comes as states and localities begin to spend more than $1 billion on school improvement under the Every Student Succeeds Act. While states will have wide leeway to design, implement, and monitor this new generation of school-improvement work, they should take the right lessons away from past investments.
Ginsburg and Smith recommend that the Education Department take a different approach to judging the performance of these efforts and other federal initiatives, drawing more heavily on existing state data that can show how school turnaround works in different contexts.
"We learned from the state and local studies that many of the successful SIG schools used well-researched strategies as their interventions," Smith said. "These are the lessons we should be sharing."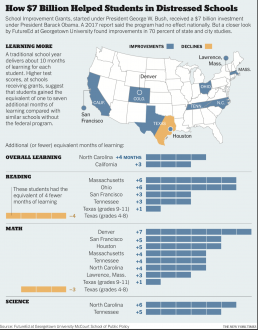 See the graphics on SIG's impact on achievement.
Read our commentary in Education Week.
View the New York Times graphic based on this research
Photo courtesy of Allison Shelley/The Verbatim Agency for American Education: Images of Teachers and Students in Action.