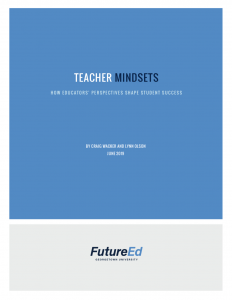 Research increasingly points to the importance of social and emotional learning to student success. Teachers play a central role in these dimensions of learning, particularly in helping student feel connected to school and have a positive sense of themselves as learners. Through the messages they send and the experiences they provide in classrooms, teachers shape students' psychological perspectives on schooling and their achievement levels, a growing body of research reveals.
This report explores the critical importance of "teacher mindsets," or teachers' attitudes, beliefs, and practices, in fortifying students' investment in learning. We profile several schools in the forefront of that work, schools that have begun to use the new findings on teacher mindsets to shift adult belief and behaviors in ways that strengthen students' view of themselves as learners and their motivation to learn.
Listen to our teacher mindsets podcast
Read an interview with the authors
Read our report on SEL in the CORE Districts
Photo courtesy of Allison Shelley/The Verbatim Agency for American Education: Images of Teachers and Students in Action.